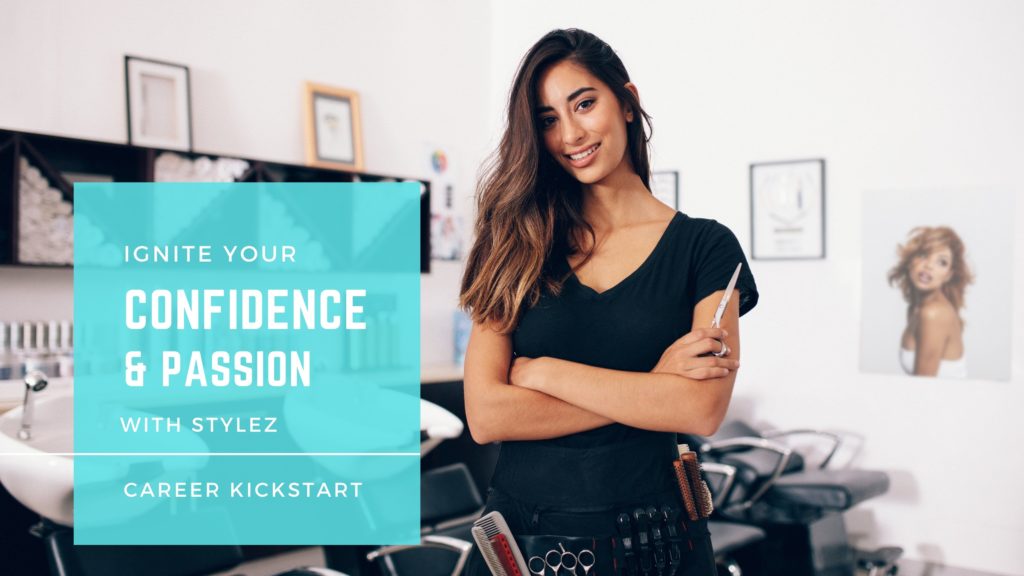 The Next Big Thing: Stylez Career Kickstart
Stylez, the app for all things hair, has just launched a virtual course for hairdressers and stylists to breathe life into their beauty career! The Career Kickstart can be found within the app and is a six-module program. The focus? SUCCESS for beauty professionals of all levels for the purpose of igniting intention behind your financial beauty dreams. For this reason, beauty enthusiasts can take advantage of this ENERGY MAKEOVER and become a six-figure hairdresser, driven by interactive learning on demand.
In only a few weeks those who take the course will refresh their hair career. Take this moment to regroup and relaunch your mindset. Increase your confidence in WHY you do what you do! The course allows hair professionals to envision success in detail and provides a roadmap on how to surely achieve it. In fact, this journey will include educational coursework featuring world-renowned stylists within the industry.
Stylez created this program with the intention of helping brand new hair stylists. But after such a trying pandemic, MANY beauty pros are pivoting & reassessing their business as times shift into a more digital space!
New to the industry? It's important to set the vision in the future.
Need to reignite your passion for beauty? By all means, it'll be much easier with your industry icons mentoring you, anywhere, anytime.
Each module features a journey as well as video lessons with industry professionals who have achieved quantifiable success as hairdressers and traveling educators. Instructors have molded today's most viral trends. Best of all? It's easy to use, & Pros can learn on their own terms—in bite-size pieces, or in a single binge.
The first-person accounts, close-ups, confessions and demonstrations put you one-on-one with pros that have made it to the top of their tracks. As a result, they dig into stories of emotional strength and challenges they experienced along the way. Their advice and path will help reinforce your human experience in the world of hair.
At STYLEZ we focus on foundations. We have ALL the motivation you need spoken artfully by top communicators to walk you through each of these modules.

Stylez, the app for all things hair, is a one-stop digital platform for professional hairstylists & barbers. Pros can access all of the business-building tools and educational content needed to achieve success and confidence within their business, right at their fingertips. The app provides a fully integrated experience where hair professionals can learn. From new tactics and techniques, the webinars and hair recipes cover application technique and trends that are dropping as we speak. Stylez provides tools to support stylists in their journey beyond the chair, including a Career Kickstart Program, Certifications by discipline and a Consultation Tool.
Stylez's mission is to support and empower hair professionals to find success and achieve their dreams in beauty. Stylez believes in connecting the hair professional community to build confidence, trust and companionship. Let's work together towards eliminating Bad Hair Days all together!
Level up your beauty game – Install Stylez today!
Another reason you HAVE to join the #STYLEZFAM?
Stream videos that will guide your post pandemic skills out of a rut.
Pros can explore their favorite videos and save a wide range of exclusive trending looks to send and book with their clients, all while getting education in the palm of their hand. Downloading the App will give access to +40 instructors, +10 brand channels, career coaching modules, +500 RECIPES and HairHacks, and +100 webinars as soon as the user creates their PROFESSIONAL PROFILE.
Stylez believes in empowering this generation of hair stylists with quality education through digital business tools.
Watch & see for yourself today.