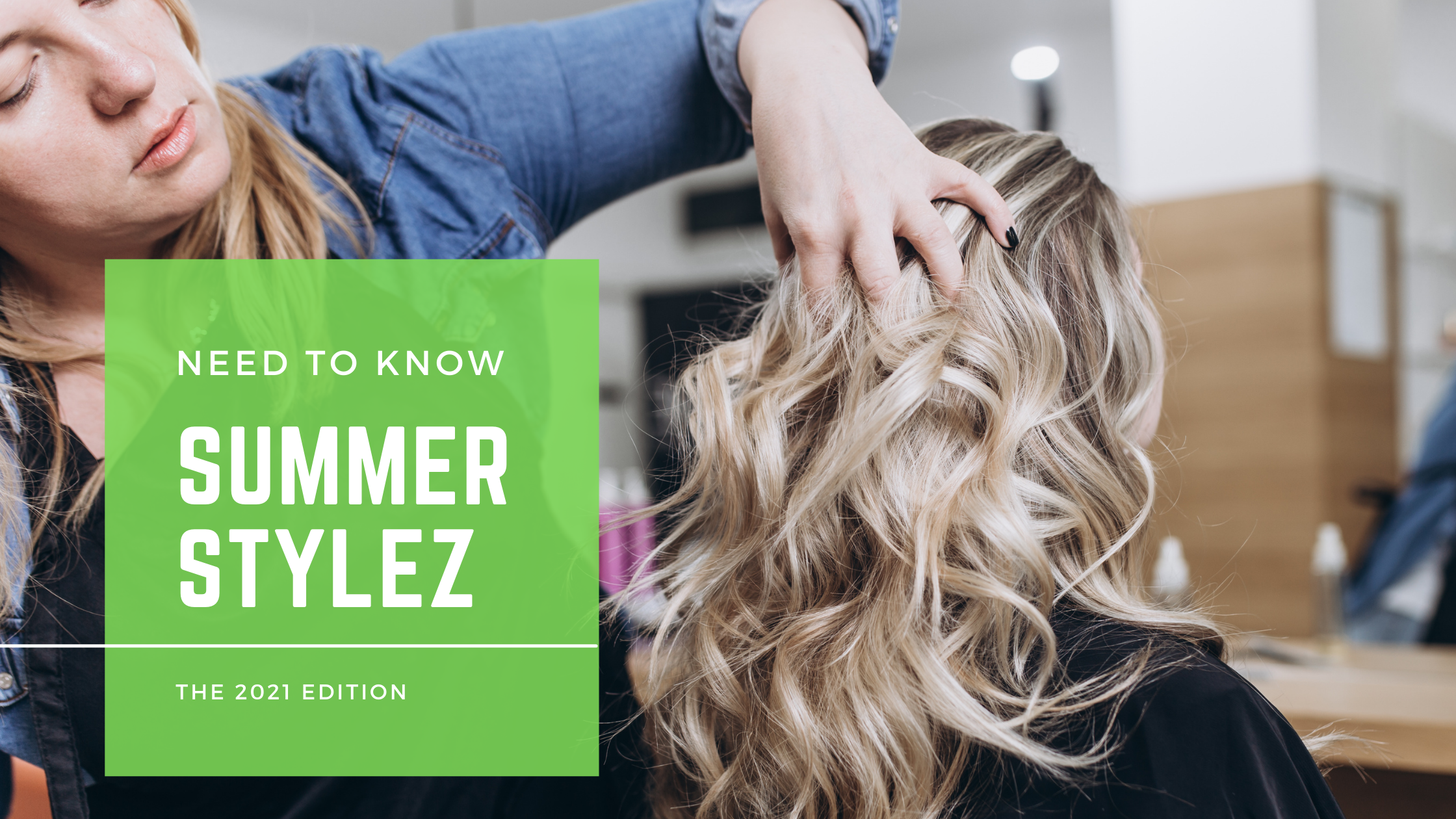 2021 Summer: 7 Hair Trends Beauty Pros NEED TO KNOW
Summer 2021 is going to be about bringing LIFE back to beauty, and STYLEZ is HERE FOR IT!
Quarantine hair left clients with disaster hair. If they didn't touch it, we have 10-inch roots, if they did, we have to deal with in-depth color corrections or disaster layers. In any case, us beauty pros were left with a profound appreciation of our beloved clientele. Clients are jumping back into our chairs as the world opens back up and it 's KEY for us to know how to approach each of the trending post-pandemic looks flawlessly.
With vaccines becoming available to most, and policies loosening for salons, we are seeing that the ability to express creativity through techniques is all about the 70s. From rock n' roll to anti-vaccination madness, our hair is feeling ALL of the changes. Beauty pros need to do something BIG to get rid of that 2020 residue while prepping for the summer and it's time for pros to get the inside scoop on the trends.
At STYLEZ we focus on classic foundations, and we have ALL the HairRECIPES you need, led by some of the best communicators in the industry, to walk you through each of these trends.
Multi-toned Platinum By Laura Gibson
No matter who you are, there is always that ooooone impatient client that takes the plunge into box color. We still love them, but we also have to know how to lift them from this "box rut."
Laura Gibson takes on our biggest fear in the video below! Black box color to silver in ONE SITTING! We are seeing all kids of hues make an appearance in a single moment. Blondes that are cool in the front, warm in the back and because of that, we can get away with lifting blackbox color with strategic toners and clays. What would've been a mistake in the 90s in the new intentional way of playing with shades and adding those subtle hints of warmth.
Curtain Bangs by Sam Villa Hair
NOTHING says 70s like a thick pair of curtain bangs. From MOD to rock, there are so many ways to rock this face-framing trend. As a pro, you have to approach curtain bangs technically and then give them that modern twist. Our dear friend Sam Villa stopped by to bring you this look in the video below! Here, he'll walk you through the steps on recreating this trend, but if you want the full version where he breaks it down, you can catch the recipe below and check out the full tutorial in the App.
Embracing a Natural Textured Look by Tippy Shorter-Rank
Now more than ever, curly girls have access to products and tools designed for them. Hallelujah! So much so, that the new question is, what exactly should I use on my curls, and how?
Enter Tippi Shorter Rank, stylists to some of the most famous curly women on the planet, Alicia Keys, Beyoncé, Kerry Washington, Zendaya and Angela Bassett to name just a few. In the tutorial below she tells us just what Mizani products she recommends and how to apply them like she would to any of her natural clientele, including herself!
Long Layered Shag Daniel Roldan
The long shag with a layered face frame is JUST what clients are looking for, especially when they ask you to "keep the length." It's elegant enough for a blowdry, but sexy and messy enough for a concert wet-look. Matrix Global Artistic Director Daniel Roldan teaches us in this tutorial how to get this 70s supermodel silhouette.
Red Dimension by Laura Gibson
FIRE is IN! Balayage that red to bring her into this year's trends! From dimension to money piece, we are seeing different ways to apply red using these hand-painted techniques that add pops of light of warmth in the summer. Laura Gibson is a wiz at color and shows just how to light up those beautiful flames of red at StylezStudio in Miami!
Dimensional Brunette by Daniel Mora
High-maintenance blondes are taking a backseat this summer! It's all about lived-in hair and anything that will keep clients looking good the longest. If there's anything we learned in 2020… is that you never know what could happen that may keep you away from the salon. Brunettes are having a moment and even blondies are asking for that rooted dimension. In this tutorial, Daniel Mora teaches you to apply color while creating volume and playful depth.

Another reason you HAVE to join the #STYLEZFAM?
Stylez believes in empowering this generation of hair stylists with quality education through digital business tools.
STYLEZ is a virtual PLACE WHERE YOU CAN CONNECT TO YOUR HAIRDRESSER PASSION nd regain confidence in your craft like never before.
Use technology to CHANGE YOUR HAIR GAME by learning in one-on-one masterclasses from your favorite educators for only a few dollars a month depending on the plan you chose! #STYLEZFAM is an educational community to promote your beauty and trust between stylists, clients & brands.!
From industry career coaching, to opportunities for brand sponsorships. Perks include exclusive access to your favorite hair pros & brands via channels, trending hairstyle look books, and HairDating – a feature matching stylists with potential local clientele!
DO NOT MISS IT!